Boom lift certification training in BC is a crucial component of
workplace safety

and compliance—get

certified

through Reliable Training!

This training program is designed to equip individuals with the knowledge and skills necessary to operate boom lifts safely and efficiently. BC's unique landscape, characterized by diverse industries, including construction, forestry, and manufacturing, emphasizes the importance of this certification.

In BC, boom lift certification training typically covers a range of essential topics. These may include understanding the various types of boom lifts, their components, and maintenance procedures. Participants are also educated about safety regulations and best practices to prevent accidents or injuries during operation. Practical training sessions provide hands-on experience with boom lifts, ensuring that operators can confidently navigate the equipment and perform tasks while adhering to safety protocols. This training will help reduce workplace accidents and ensure that workers have the necessary skills to excel in their roles safely and efficiently.
Our Boom Lift training covers:


Occupational health & safety regulations



Workplace hazard assessment



Pre-shift equipment inspection



Hydraulic systems



Electrical systems



Boom lift structure


Safety devices



Principals of stability



Safe operation



Operator assessment (practical)



Operator evaluation (written)
Course Fee: $200

Location: All trainings are available either at your location or at our climate-controlled indoor warehouse in Richmond.


20599 Westminster Hwy, Richmond, BC
Combine 2 Lift Trainings & Save!
Save up to $95 by taking our Boom Lift Training course combined with our Scissor Lift OR Fall Protection training!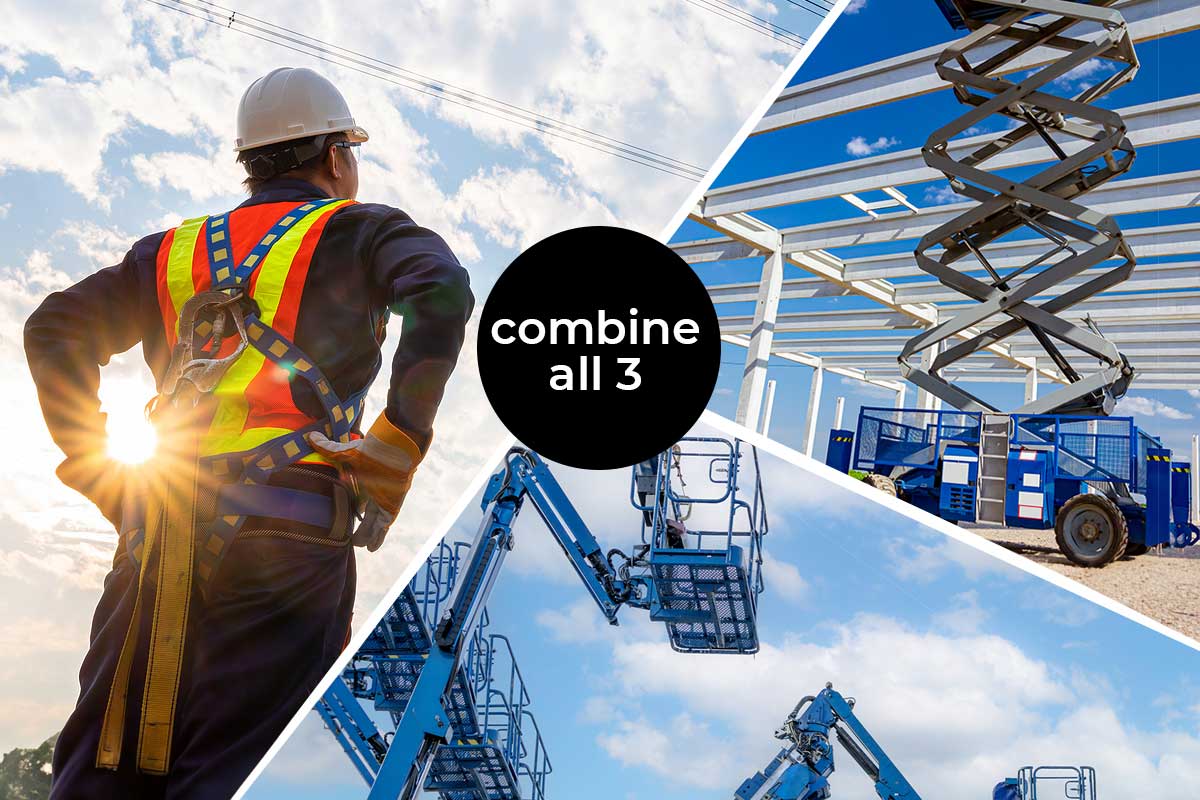 Combine ALL 3 Lift Trainings & Save
Save up to $160 by taking our Boom Lift Training course combined with our Scissor Lift AND Fall Protection training!
Still have questions?
Give us a call!
Frequently
Asked Questions
Who needs to take Boom Lift Training in BC?
In British Columbia, boom lift training is a mandatory requirement for individuals operating boom lifts as part of their job responsibilities. This obligation is not only a matter of best practices, but is also mandated by the Occupational Health and Safety Act (OHSA). The OHSA enforces strict regulations to ensure workplace safety, and boom lift certification is an integral component of compliance. It is a legal requirement designed to safeguard the well-being of workers and reduce the risk of accidents and injuries when working at heights.
What is the difference between a boom lift and an aerial lift?
While both scissor lifts and boom lifts fall under the category of aerial lifts, it's important to note that boom lifts offer significantly more versatility. This enhanced versatility arises from their hydraulic arm support, which enables them to navigate obstacles with ease, as well as reach greater heights.
Does a Boom Lift Operator Certificate expire in BC?
Upon successful completion of this course, participants will receive a wallet card, valid for 3 years, indicating that they have met the training requirements mandated in the province of British Columbia. Participants are required to get re-certified before the 3-year expiration date on their card.
Annual review of this training is strongly recommended and participants are welcome to come back and practice as much as they need to feel comfortable at no additional charge – please call us for more details.
How long does it take to get Boom Lift Certified in BC?
A Boom Lift Operator's Certificate can be obtained in as little as 1 day with our comprehensive Boom Lift Training. Come to our warehouse for the training, or host the training at your own facility—it is up to you.
Do you offer off-site training for Boom Lifts?
Absolutely. If your organization has a suitable facility and would prefer to hold your Boom Lift Training at your location for a group of your employees, we will gladly organize this for you!