Obtaining scissor lift certification in BC ensures
workplace safety

and adherence to regulations. Secure your

scissor lift certification

with Reliable Training for a safer workplace.

Scissor lift certification training in BC is a fundamental aspect of workplace safety, particularly in industries where these elevated platforms are commonly used. This training equips individuals with the knowledge and skills required to operate scissor lifts safely and efficiently, reducing the risk of accidents and injuries.

During this training, participants cover a range of crucial topics, including understanding the different types of scissor lifts, their operational mechanisms, and essential safety protocols. Participants are given the opportunity to gain hands-on experience with scissor lifts, honing their abilities to operate them proficiently while prioritizing safety. Compliance with BC's safety regulations is paramount— this certification program is designed to align with OSHA and WorkSafeBC standards to ensure that workers are well-prepared for their responsibilities when using scissor lifts on the job. Overall, scissor lift certification training in BC serves as a cornerstone of workplace safety, safeguarding both employees and employers while enhancing operational efficiency.
Our Scissor Lift training covers:


Occupational health & safety regulations



Workplace hazard assessment



Pre-shift equipment inspection



Hydraulic systems



Electrical systems



Scissor lift structure


Safety devices



Principals of stability



Safe operation



Operator assessment (practical)



Operator evaluation (written)
Course Fee: $180

Location: All trainings are available either at your location or at our climate-controlled indoor warehouse in Richmond.


20599 Westminster Hwy, Richmond, BC
Combine 2 Lift Trainings & Save!
Save up to $95 by taking our Scissor Lift Training course combined with our Boom Lift OR Fall Protection training!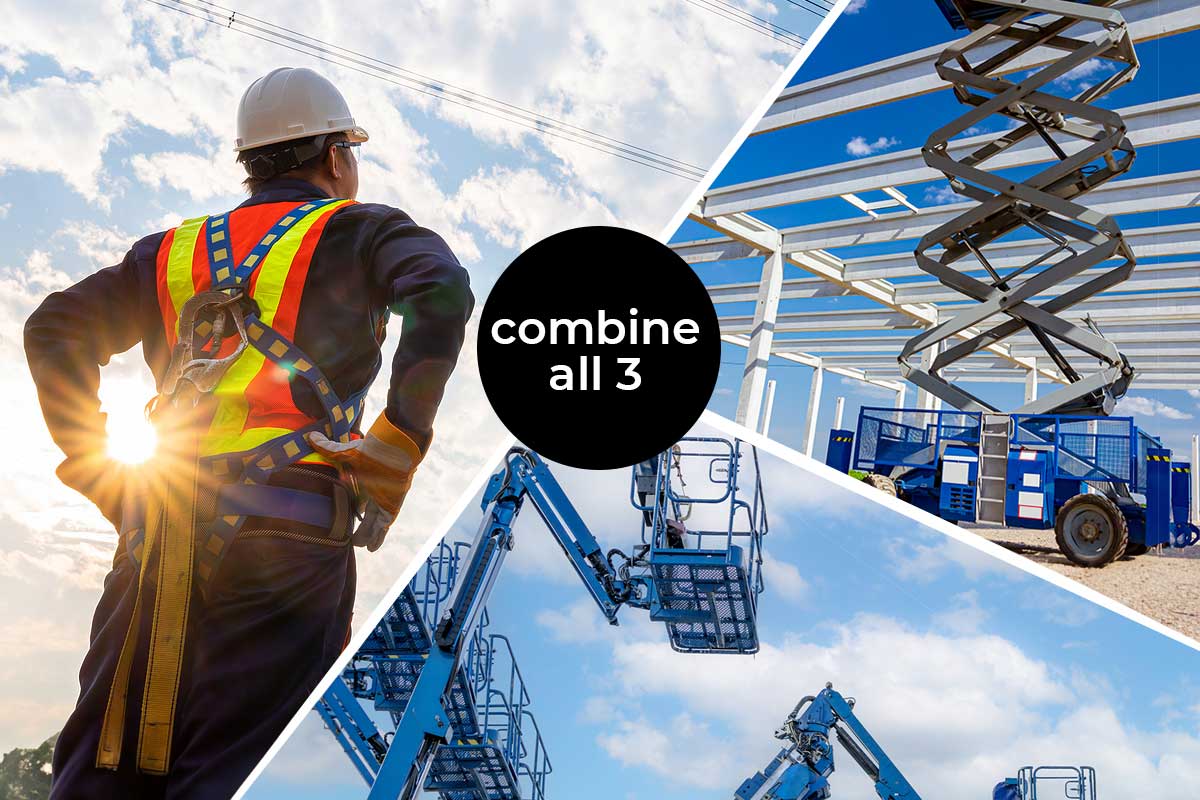 Combine ALL 3 Lift Trainings & Save
Save up to $160 by taking our Scissor Lift Training course combined with our Boom Lift AND Fall Protection training!
Still have questions?
Give us a call!
Frequently
Asked Questions
Who needs to take Scissor Lift Training in BC?
In British Columbia, individuals who operate scissor lifts as part of their job responsibilities are obliged to undergo mandatory scissor lift training. This requirement extends beyond a mere best practice; it is a legal mandate stipulated by the Occupational Health and Safety Act (OHSA). The OHSA imposes stringent workplace safety regulations, and scissor lift certification forms an essential element of this regulatory framework. This legal obligation serves the primary purpose of ensuring the welfare of workers and mitigating the potential hazards and injuries associated with working at elevated heights.
What is the difference between a boom lift and a scissor lift?
The primary difference between a scissor lift and a boom lift lies in their mobility and reach. Scissor lifts are characterized by their vertical lifting capability, moving straight up and down. They excel at providing stable platforms for tasks like maintenance and construction work at moderate heights. On the other hand, boom lifts, also known as cherry pickers, offer enhanced flexibility with a hydraulic arm that can extend both vertically and horizontally. This allows boom lifts to reach higher elevations and navigate around obstacles, making them suitable for tasks that require access to difficult-to-reach areas. In essence, scissor lifts are best for vertical elevation, while boom lifts are preferred when versatility and reach in various directions are essential.
Does a Scissor Lift Operator Certificate expire in BC?
Upon successful completion of this course, participants will receive a wallet card, valid for 3 years, indicating that they have met the training requirements mandated in the province of British Columbia. Participants are required to get re-certified before the 3-year expiration date on their card.
Annual review of this training is strongly recommended and participants are welcome to come back and practice as much as they need to feel comfortable at no additional charge – please call us for more details.
How long does it take to get Scissor Lift Certified in BC?
A Scissor Lift Operator's Certificate can be obtained in as little as 1 day with our comprehensive Scissor Lift Training. Come to our warehouse for the training, or host the training at your own facility—it is up to you.
Do you offer off-site training for Scissor Lifts?
Absolutely. If your organization has a suitable facility and would prefer to hold your Scissor Lift Training at your location for a group of your employees, we will gladly organize this for you!
Boom & Scissor Lift Training, Fall Protection Training, Forklift Training & Telehander Training in Greater Vancouver and the Lower Mainland.


20599 Westminster Hwy, Richmond, BC
Copyright © 2023 Reliable Training Services Ltd.